What is Construction ICRA
ICRA stands for Infection Control Risk Assessment. The training courses are available for architects, hospital personnel, and construction professionals. 
Lunch and Learn for Specification Professionals
This program lasts 90 minutes and is 1.5 CEUs. Attendees will learn about the importance of having construction crews trained in ICRA protocol in order to eliminate job site problems related to pathogens and other contaminants. We are an approved provider for continuing education by the American Institute of Architects.
8-Hour Awareness Course for Facility Personnel, Auxiliary Trades, and Contractor Representatives
Attendees will learn about the importance of containing pathogens, controlling airflow, as well as recognizing and properly disposing of hazardous materials. We are proud to work with other trades and facility personnel to ensure safety across all spectrums of hospital construction.
24-Hour Certification for Construction Professionals
Each program is a hands-on training for construction professionals in a healthcare-simulated environment. This training is verifiable on the job site so that you feel confident that everyone is safe while you work to improve your facility.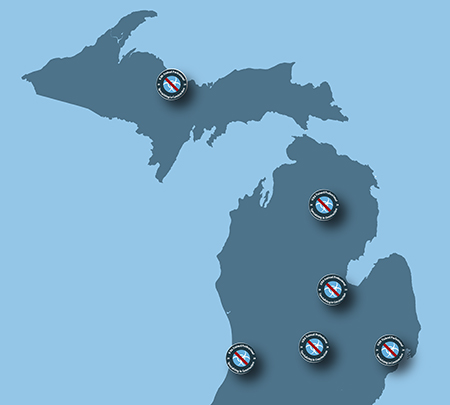 In addition to providing free mobile training, we provide training at all of our schools throughout the state.
---
Detroit Carpenter Training Center
1401 Farrow St, Ferndale, MI 48220
Phone: (248) 541-2740
---
Millwrights Institute of Technology
27555 Mound Rd., Warren, MI 48092
Phone: (586) 573-4660
---
Saginaw Carpenter Training Center
3160 Commerce Centre Dr., Saginaw, MI 48601
Phone: (989) 755-5856
---
Grayling Carpenter Training Center
2410 Industrial Dr., Grayling, MI 49738
Phone: (989) 348-8542
---
Negaunee Carpenter and Millwright Training Center
370 U.S. Highway 41 East, Negaunee, MI 49866
Phone: (906) 228-2913
---
Wayland Carpenter and Millwright Training Center
500 Reno Drive, Wayland, MI 49348
Phone: (269) 561-8115